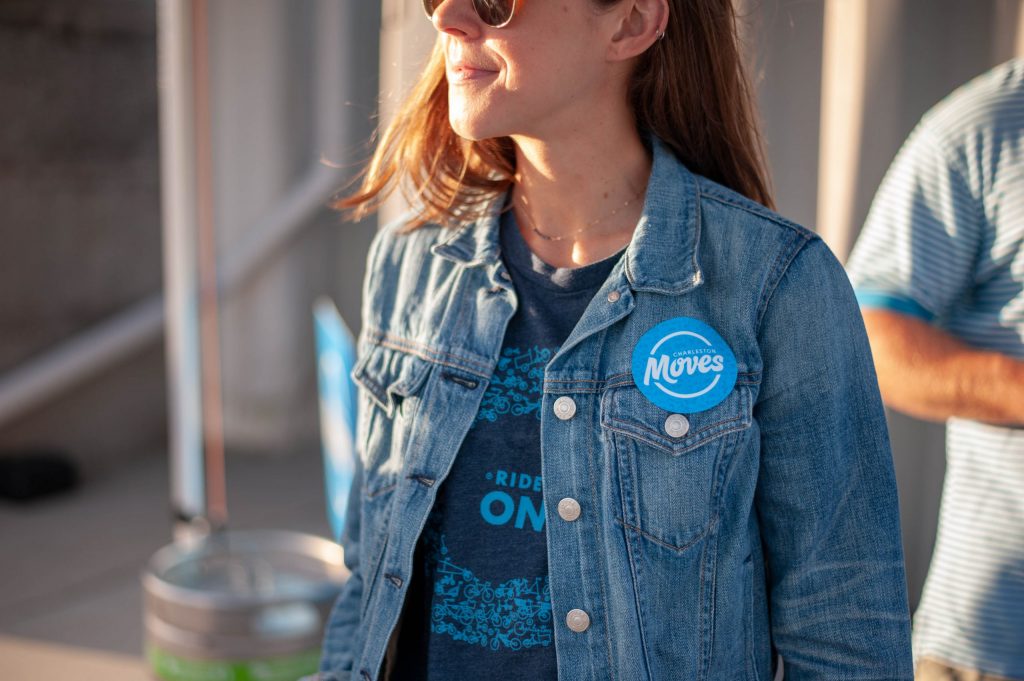 SPEAK UP FOR EQUITABLE MOBILITY!
HUNGRYNECK CORRIDOR — FINAL PHASE

 Comments due by 2/9/22 
The Town of Mount Pleasant is developing the final piece of the Hungryneck Corridor. Dubbed Billy Swails Boulevard 4B, it would run along the edge of a Greenbelt parcel, connecting Six Mile Road and Hamlin Road. There are pros and cons to this project, but our focus is on safe bike/ped design.
The Town's preferred alternative includes two 14′ shared use travel lanes for vehicles and bicycles, with sharrows on the outer edge of the lane. It also includes a separated 12′ multi-use path on one side of the road and a vegetated median. The intersections show basic crosswalks.
Here is what we will be suggesting in our comments, and we encourage you to do the same!
Rather than shared use lanes for vehicles and bicycles, we request on-street bike lanes be striped at a minimum of 5′ in width. Narrowing the travel lanes to 10′ could help accommodate these, while also slowing motorists. We believe the 35 mph speed limit is too high, especially considering the alternative's proposal for sharrows.
The separated 12′ multi-use path is appreciated and important to provide in tandem with on-street facilities, so there is enough space for all travelers and for the design to suit all ages and comfort levels.
Intersections need to include robust signalization, high visibility crosswalks, and pavement markings through the intersection for bicyclists. We would also like to see green paint installed at intersection approaches/conflict zones.
Project page: https://www.tompsc.com/1034/Billy-Swails-Boulevard-4B
Details: https://www.tompsc.com/…/40232/0_20220107_BSB_PH_Boards
Submit comments to Paul Lykins via email (PLykins@tompsc.com) or mail:
Mr. Paul Lykins
Town of Mount Pleasant
100 Ann Edwards Lane, Building A
Mount Pleasant, SC 29464
 MARK YOUR CALENDAR!
Better North Bridge Public Meeting #2
Wednesday, February 16
4-7 pm (drop-in format)
Westminster Presbyterian Church (1157 Sam Rittenberg Blvd, West Ashley)
Charleston County is hosting their second public information meeting, during which you can learn about the Better North Bridge project and provide input on potential route alignments for a separate bicycle and pedestrian bridge and multi-use path connection. Please mark your calendar to stop in, weigh in, and show your support for a safe, equitable crossing.
After the meeting, the County will continue to collect input from the community until March 3. You can view all the ways to participate at betternorthbridge.com and betternorthbridge.org.
The existing North Bridge crossing between West Ashley and North Charleston is a wedge in our community. One that not only puts people's lives at risk on a daily basis, but also informs life expectancy, financial stability, educational opportunities and quality of life for so many in our community. We are committed to pushing a safe, equitable, connected and accessible fix forward.
Public input will inform the selected alternative, which in turn, will position the County to develop a 2022 federal RAISE grant application, while Charleston Moves, the municipalities and agencies continue coordination around other funding sources to get the Better North Bridge constructed as quickly as possible. Every day that goes by is another day that our neighbors lives are in danger.
Make sure to mark your calendar to show up and speak up in support of a new bike/ped bridge, and to let the County know which route you prefer!
CROSS THE CUT PETITION

 SIGN HERE: https://actionnetwork.org/petitions/safe-bikeped-access-across-the-wappoo-cut 
The Wappoo Cut Bridge is located along Folly Road between West Ashley and James Island. While it has sidewalks leading to it, and a maintenance path across, the space is too far narrow and close to fast-moving vehicles. This is a key corridor that links destinations with existing infrastructure and pending projects, including: the West Ashley Greenway, Maryville Bikeway, new Ashley River Bicycle & Pedestrian Bridge, McLeod Plantation, Rethink Folly Road improvements, Maybank Highway complete streets work, James Island County Park, and more. Despite progress and opportunities on both sides, this bridge remains a barrier. We need a critical mass of support to make this crossing safe and comfortable for people to walk, bicycle, travel in wheelchairs, and with canes.