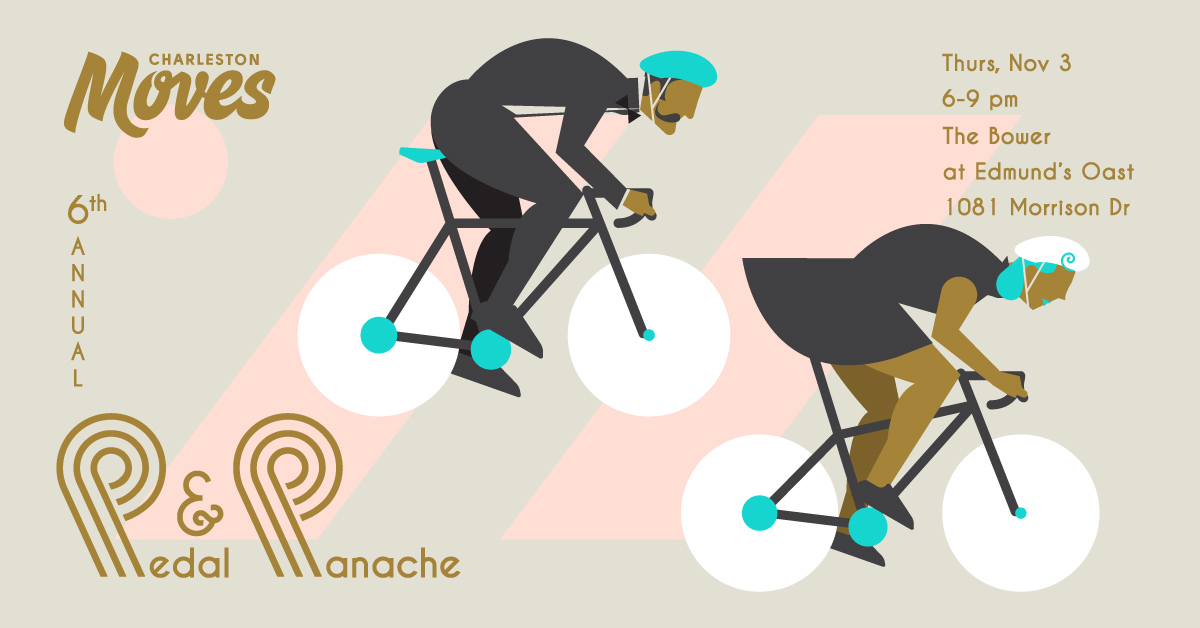 NOVEMBER 3   //   6-9 PM   //   THE BOWER AT EDMUND'S OAST
Pedal & Panache event is back this year for the 6th annual celebration! Support the cause over live music, food and drink, and a silent auction in the beautiful Bower at Edmund's Oast in downtown Charleston. Get your tickets while they last!
//   NEW THIS YEAR   //
Our silent auction is online and bidding is open! From outstanding dining to immersive experiences and memorable activities, we have a great selection of items — ready for treating yourself and gifting to loved ones. Check it out and place your winning bids!​
Also! We are seeking sponsors, and levels are limited. If you'd like to support this event and our work as an individual or on behalf of a business, please review our benefits proposal and email Savannah@CharlestonMoves.org to sign on.
All proceeds directly support our advocacy for safe, connected and equitable access for people walking, biking and taking public transit. We believe that when our streets are designed for people, and everyone has safe transportation options, our entire community benefits.
We encourage you to walk, bike or take transit to our event. There are numerous bike parking racks on site, and the area is serviced by CARTA.
LET'S HEAR IT FOR OUR SPONSORS
Bike Law is a network of independently practicing Bicycle Crash Lawyers who share a common approach to the law and helping cyclists. We've handled thousands of cases on behalf of cyclists. We know the difference between an accident and a bicycle crash, and why it matters. Our goal is to be effective bicycle advocates as well as legal advocates, and to pursue cycling justice.
Morrison Yard Residences is a mindfully-designed space in Charleston's NoMo neighborhood opening November 2022, bringing apartment homes, workspaces, shops, restaurants, and green space to the city's vibrant local community. Situated along the Cooper River at the base of the Ravenel Bridge, the premier residential destination is easily accessible for bikers and pedestrians with ample bike storage available and a bike repair shop on site. Morrison Yard is working with city planners to create a pedestrian/bike connection to the bridge and install a traffic light to make commuting easier and safer.
//   SILVER SPONSORS   //
//   BRONZE SPONSORS   //
Please note the following details prior to purchasing tickets:
The event is rain or shine.
Tickets are non-refundable.
A professional photographer will be on site. By entering the event premises on November 3, 2022, you grant Charleston Moves permission to use photos you may appear in for any and all uses, including online and print marketing, promotion and outreach. If you do not wish to be photographed, please notify us upon check in.