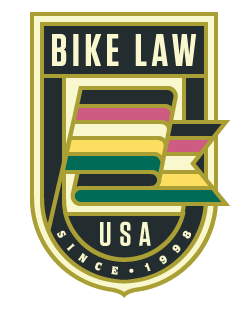 Charleston Moves and Bike Law have a long history together, and we're pretty grateful for it. Bike Law's founder, Peter Wilborn, was part of the original coalition of folks who formed Charleston Moves, after their victory of achieving a bike and pedestrian path on the newly-constructed Ravenel Bridge. 
Over the years, Bike Law and Charleston Moves have co-hosted multiple bike rides to help build critical mass, to mourn the community members we've lost, and to develop relationships with local law enforcement. We share a belief that when roads improve for the safety of bicyclists, they become safer for all. To that end, we often advocate side by side. In fact, Bike Law's Timmy Finch joined us at Charleston City Council just last week to request annual bike and pedestrian budgetary allocations for key projects. And last year, we backed Executive Director Rachael Maney on a charge to correct victim-blaming language in police reporting; this effort has led to sustained improvement by the police department. Language matters and we are thankful that Bike Law leads initiatives to address those changes. 
Bike Law is a network of independent bicycle crash lawyers who share a common approach to the law and to helping cyclists. With a goal to be bicycle advocates, legal advocates and to pursue cycling justice, the brilliant team at Bike Law SC is constantly fighting for your safety and rights to the road. They are the ones who show up to represent those among us who have been harmed. They are our experts in the field when it comes to the law, justice and the best practices for safety. Bike Law not only supports Charleston Moves and our followers during our worst experiences when there is a crash or collision, but as shown by their sponsorship, they support us during our best experiences, when it's time to celebrate milestones and gather as a stronger community of multi-modal advocates. 
Thank you to Bike Law for their tireless work of protecting vulnerable road-users and bringing justice to those affected by dangerous motorist behavior. We are beyond grateful to have them as part of our community, and as a 5th Annual Pedal & Panache Title sponsor!