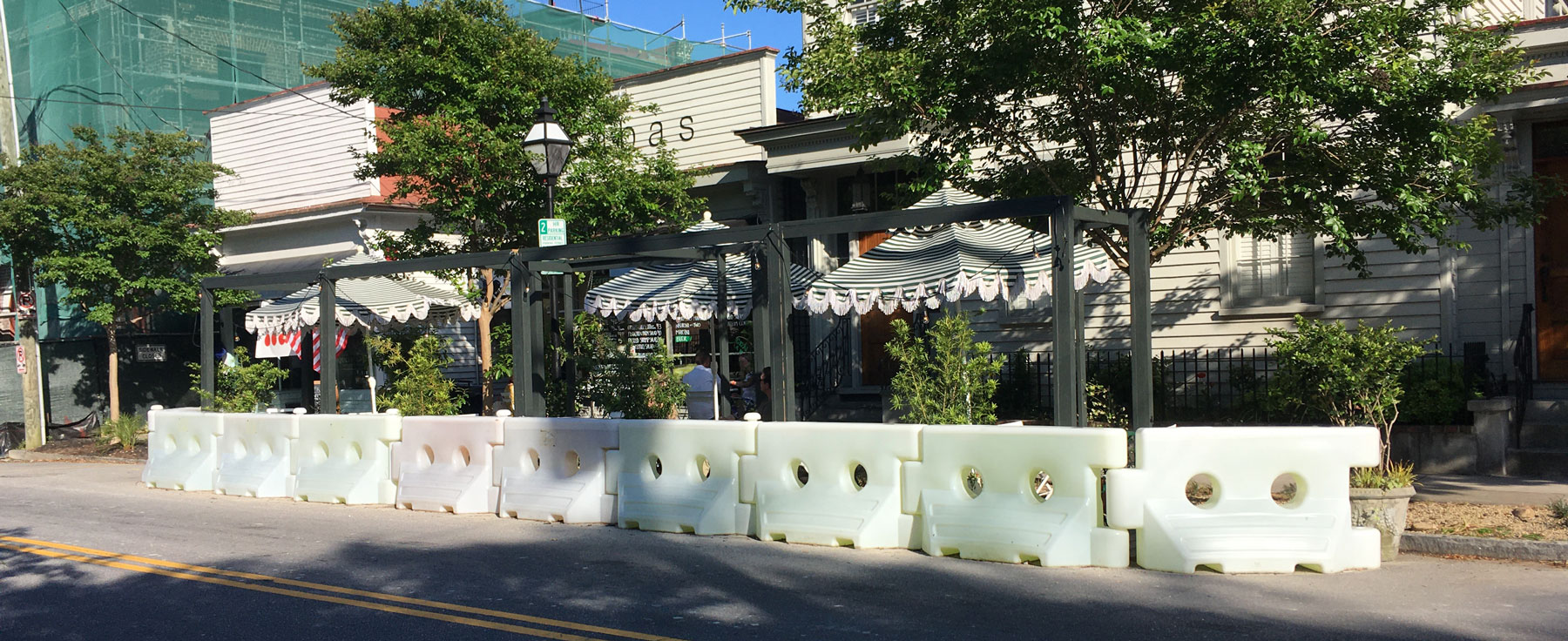 OPEN STREETS
CONTEXT + GOALS
As we all navigate these unprecedented times, it is abundantly clear that safely-designed spaces that provide room for people to move is more important than ever. We face an amazing moment in history to collectively reset our thinking and rebalance our streets in ways that put people first. To that end, over the past 3 months, we have been working diligently to push pilot projects that provide expanded, dedicated space for people to move and patronize businesses, while maintaining safe distance from others.
Charleston's narrow sidewalks, both on the peninsula and off, do not allow people to pass one another at the recommended minimum 6′ of distance. In tandem with that, there has been a significant increase in pedestrian and bicycle activity. Now that our state is focused on rebooting the economy by allowing businesses and programs to open, the simple act of walking in the city poses a public health threat. We implore the City to rebalance space along specific street segments in a way that would equitably and safely benefit citizens, businesses and frontline workers.
MOVING FORWARD
On Wednesday, June 10, the City of Charleston's Bicycle & Pedestrian Advisory Committee, on which Charleston Moves sits, met to formulate Open Streets recommendations. Here's an overview of the first proposals moving forward:
South Market Street was selected for full closure between Church and State Streets. This pilot launched on Saturday, August 15, and will remain in effect throughout 2020! Outside of full pedestrianization (9 am – 5 pm daily), protected space will be reserved for foot traffic in the loading zone, adjacent to the City Market.
Wentworth Street was identified between Meeting and King Streets for expanded bike access. The Committee agreed that the southern lane (of two, both headed west) could be converted temporarily into a two-way cycle track, particularly while traffic volume remains low. Keith Benjamin, Director of Traffic & Transportation, will begin conversations with SCDOT.
The Committee's Design Subcommittee will look at parklet opportunities, with Upper King Street and Avondale being potential locations. This will be done in collaboration with the City's Design Division, who has already done very helpful groundwork. They will address design and safety standards, as well as a simple application process, as this would — if it comes to fruition — be an opt-in program for businesses.
The Committee is starting with (what should be) implementable and politically feasible locations to pilot Open Streets initiatives. With South Market being City-owned, and Wentworth offering additional, underutilized space, these are realistic places to start. That said, the concepts will still need approval from Council's Traffic & Transportation Committee, then full Council. The Wentworth and parklet concepts would need additional approval from SCDOT.
The initial, easy proposals will, amongst other things:
enhance access for our most vulnerable road users (people on bikes, foot and transit);
provide a dedicated, more connected route to a neighborhood grocery store (Harris Teeter on East Bay Street);
and directly benefit food, beverage and hospitality workers who have been hit particularly hard during this pandemic.
These recommendations are the first of many steps toward rebalancing our public spaces and encouraging social distancing. They should serve as models that Open Streets are problem-solvers for our city, like they are in so many others around the world. If successful, we expect to proceed with a wider and equitable series of projects, in various locations, serving all types of citizens.
Equity is central to these conversations, and committee members are already brainstorming ways to put Open Streets to work for local and Black-owned businesses, and make neighborhoods and civic spaces accessible. Members of the Committee have continuously pointed out that there needs to be a nimble feedback loop; these pilot projects must be done in ways that truly benefit and are supported by the communities they're intended to serve, especially those who are systemically overlooked and underrepresented.
This is the beginning of real opportunities for the equitable change of Charleston's streets. We've got to get it right. Charleston needs more space for people, and to get there, we are going to need both feedback from the community and strong support from elected officials.