WE, THE PEOPLE, HAVE SPOKEN!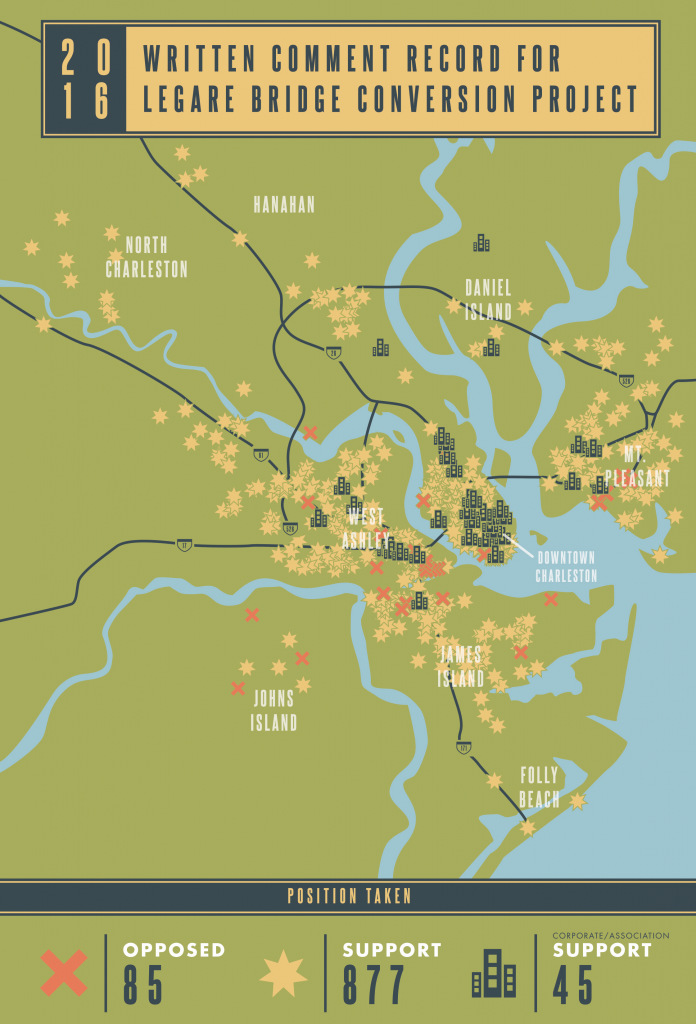 Official record of businesses and associations that support the Legare Bridge Bike & Pedestrian Lane.
Advantage Media Group — Adam Witty, Founder & CEO
Affordabike — Daniel Russell-Einhorn, Founder & Owner
Alkyon Arts and Antiques — Kershaw LeClercq, Minority Partner
Archdale Square, LLC — Todd Beatty, Owner
Artist & Craftsman (Downtown & Uptown) — Camela Guevara, Assistant Manager
Ashley Hall Manor Neighborhood Association — Michael Allen, President
Austen & Gowder, LLC — W. Andrew Gowder, Jr., Partner, Shareholder
Basic Projects LLC — Ben Towill, Owner
Barber & Shave Shoppe — Brandy Baker, General Manager
BiblioBoard — Mitchell Davis, Founder & Chief Business Officer
Black Tap Coffee — Ross Jett, Owner
Blue Ion — Robert Prioleau, Partner
Blue Sky Endurance — Catherine Hollister, Founder & Owner
BoomTown — Grier Allen, CEO & President, Chris Rickborn, COO & Nina Magnesson, Catalyst, Citizenship & Social Innovation Initiatives
Byrnes Down Neighborhood Association — Heather Powers, President
Cannonborough-Elliotborough Neighborhood Association — Cator Sparks, Jenny Bevan & Mary Mac McFadden Wilson, Executive Committee
Catch Talent — Christina Lock, CEO & Chad Norman, Chief Marketing Officer
Charleston Bicycle Company — Artur Pacult, Owner & Jeff Slotkin, Manager
Charleston County Park & Recreation Commission — Tom O'Rourke, Executive Director
Charleston Parks Conservancy — Harry Lesesne, Executive Director
Charleston Moves — Katie Zimmerman, Executive Director
Charleston Women in Tech — Carolyn Finch, Executive Director
Coastal Climbing Gym — Kensie Whitfield, Owner
Coastal Power Clean — Kershaw LeClercq, Owner
Code One Training Solutions, LLC — Richard Shok, Owner & Director
Colony & Craft, LLC — Bradley Thompson, Broker in Charge
Cooper River Cycles — Gage Cooper, Owner & KC Hazelwood, Manager
CrowdReach — Trey Rust, President
D'Allesandro's Pizza — Nick & Ben D'Allesandro, Owners
DIG SOUTH — Stanfield Gray, Founder & CEO & Sunny Gray, CFO
Distil Union — Lindsay Windham, Co-Founder & Art Director
Duckworth Creative LLC — John Duckworth, Owner
East Coast Greenway Alliance — Brent Buice, Georgia + South Carolina Coordinator
East Cooper Land Trust — Catherine Main, Executive Director
Ed Kronsberg — Avondale Business Owner
Engage Strategies — Alyssondra Campaigne, Principal
Enough Pie — Cathryn Davis Zommer, Executive Director
Geocent — Ryan Lemire, Executive Director, Operations & Development
Good Done Great — Earl Bridges, President & Kelly Luciano, Marketing and Communications
Gullah Geechee Cultural Heritage Corridor Commission — J. Herman Blake, Executive Director
Hampton Park Terrace Neighborhood Association — Robert Olson, President
Harold's Cabin — John Schumacher, Co-Owner
Historic Ansonborough Neighborhood Association — Constance Baldwin, Acting Secretary
Lava Salon — Noel Richardson, Owner
Lowcountry Local First — Jamee Haley, Executive Director & Larry Downey, Community Manager
Lunch and Recess — Ryan Cockrell, Director/Writer
Maid Brigade of Charleston —Kershaw LeClercq, Owner
Mellow Mushroom (Avondale & King Street) — Meg Dorsel, Director of Marketing & Rachel Kelley, Front of House Manager
MUSC — David Cole, President of MUSC & Patrick Cawley, CEO of MUSC Health
New Belgium Brewing Co. — Luke Cooper, Coastal SC/GA Ranger
Not So Hostel — Vikki Matsis, Manager
Objectivity Squared Wealth Management — Alex Opoulos, Financial Advisor
Obviouslee Marketing — Lee Deas, Principal
OHM Radio — Vikki Matsis, Vice President
OneinaMil — Lee-Anne Scaly, CEO
Pearlz (Avondale) — Chris Cottrill, General Manager
PeopleMatter — Jason Conrad, VP of Marketing & Jay Nathan, SVP of Customer Success
Performance Consultants, LLC — Joe Calandra, Owner
Qonceptual — Mindy Taylor, CEO & Dale Ostraco, Founder
Radcliffeborough Neighborhood Association — Harry Fendrich, President
Raven Cliff Company, LLC — Steve Zoukis, CEO
Reverb Charleston, LLC — Ashley Bell, Owner/Director
SIB Fixed Cost Reduction — Dan Schneider, CEO
Silicon Harbor Magazine — Tom Warlich, Founding Editor
Soteria Security Consulting — Christopher O'Rourke, CEO
South Carolina Community Loan Fund — Michelle Mapp, CEO
South Windermere Center Merchants Association — Ric Sommons
SPARC — Marc Murphy, CEO
Taco Boy — Karalee Fallert, Partner
The Gotcha Group — Sean Flood, CEO
The Harbor Entrepreneur Center — John Osborne, Director
The Park Cafe — Karalee Fallert, Partner
The Pearlstine Company — Susan Pearlstine
The Royal American — Karalee Fallert, Partner
The Schoolhouse — John Hagerty
The Speedwell Foundation — Mike Messner, Trustee
The Southern — Erin Nathanson, Co-Owner
Trek Bicycle Store of Charleston (Mt. Pleasant & West Ashley) — Ben Gruber, Owner
Trio Solutions, Inc. — Mark Emerson, Director, Digital Marketing
Upper Peninsula Initiative/Sustainability Institute — Bryan Cordell, Executive Director & Katherine Westmoreland Richards, Development Associate
Verde (Avondale & King Street) — Bryan Judd, General Manager
Verge Solutions, LLC — Connie Moser, COO
Voodoo Tiki Bar — Caroline Adams, General Manager
WestEdge — Michael Maher, CEO
YoBo Cantina Fresca — Nicholas Powers, Co-Owner
Ziff Properties, Inc. — Tim Walter, CEO
The project broke ground on February 12, 2016.
Since then, here is our understanding of the timeline:
Left turn lane groundbreaking (February 12, 2016)
Left turn lane installation (Completed April 1, 2016)
Lane closure test period (February 2 — Early May, 2016)
Charleston County releases test results (June 2016)
Charleston City Council re-affirms support (July 19, 2016)
Charleston County Council requests SCDOT weigh in on structural integrity of the bridge, 60-day deadline (September 20, 2016)
Charleston County Council votes to rescind support of the lane conversion (August 17, 2017)
City of Charleston and Charleston County approve matching funds ($1.5M and $3M, respectively) for a TIGER grant application to fund a stand-alone bike/pedestrian bridge adjacent to the Legare Bridge (October 10, 2017)