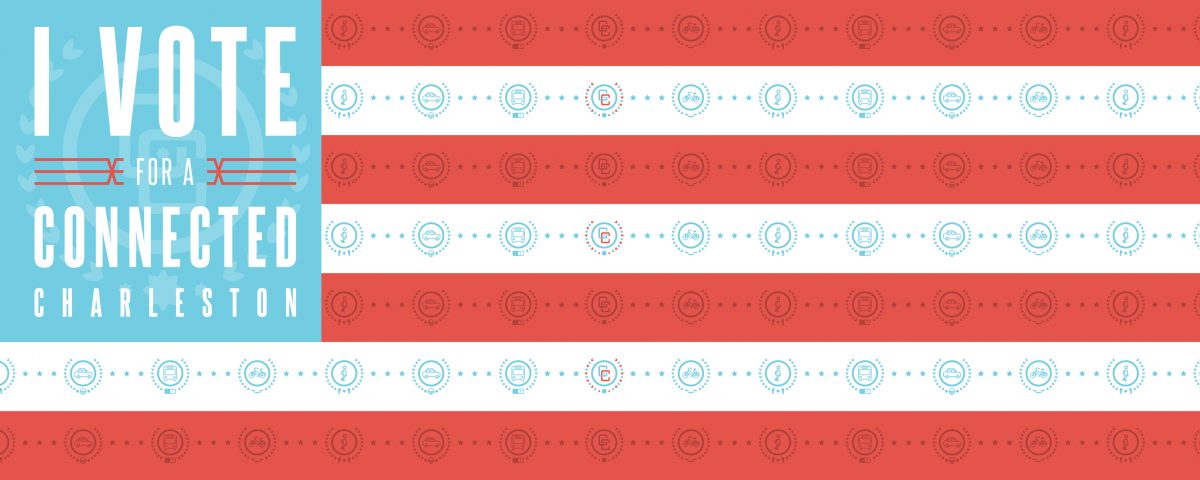 By posting an I Vote For A Connected Charleston sign, you are prominently asserting that:
Biking and walking are not alternative forms of transportation — they are themselves transportation, and part of a functioning and efficient mobility system.
Providing multiple modes of transit means versatile opportunities for personal choice. It also means we are providing equitable access for our most vulnerable citizens, including those members of our community who may not have as many mobility choices.
Biking and walking are forms of transportation that improve our health and environment, and are friendly to nearly every budget. Connected and safe bicycle and walking infrastructure is important to the harmony of neighborhoods and contributes to less-congested commutes.
The Charleston area has multiple bridges and pathways that can and should be retrofitted for people on bikes and foot. Our bridges can no longer serve as our barriers. Connecting these life-threatening gaps should be the highest priority for infrastructure improvements.
The Charleston region currently has at least 7 plans, either complete or currently in development, that include bicycle and pedestrian-related networks. Several more are being proposed. These plans collectively cover the entire county and should be prioritized and implemented now, not placed on a shelf to collect dust for generations!
The Charleston area is developing rapidly, with daily increases in population. Downtown Charleston has more tourists and hospitality workers than residents, translating to more car commuters than streets and parking facilities can handle. Major employers have expressed support for mobility options besides single-occupancy vehicular traffic.
Charleston has incredible potential to become an area with less automobile congestion and dependence. From 2009 – 2013, Charleston had the highest growth rate in the United States for bicycling. In 2015, South Carolina ranked as the 5th most dangerous state to ride a bike in the nation. Today, we have opportunities to save lives.
The time is now for leadership — for elected officials, businesses, and constituents to work together for a Connected Charleston.
Have you seen a Connected Charleston sign displayed? Do you want one? Please email Savannah@CharlestonMoves.org to reserve yours. We will notify you of pick-up events. Please post a photo on social media and tag @CharlestonMoves with #ConnectedCharleston when you place your sign!
Picking up your sign from us? Help us track where it'll go: